Applications

Cutting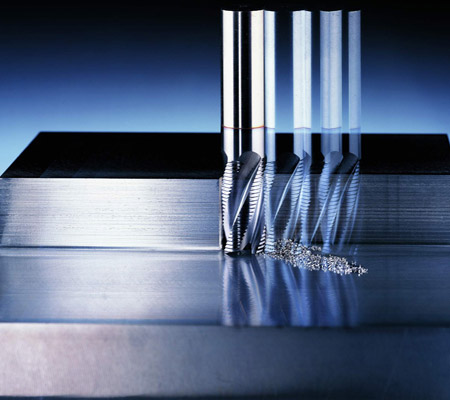 Coatings applied in cutting tools have been proved to be very effective. There are several objectives that coatings must achieved.

The objectives are to:

Cut costs
Enhance productivity
Increase manufacturing reliability

To attain these objectives, the focus must be on tools which fulfill ever more stringent requirements. A key role is played by the coating which interacts with the base material and the tool geometry to achieve superior performance. Princo's coatings can sufficiently increase the service life of tools several times than non-coated tools, often with a concurrent improvement of cutting data. They offer reproducible process behavior at a high performance level.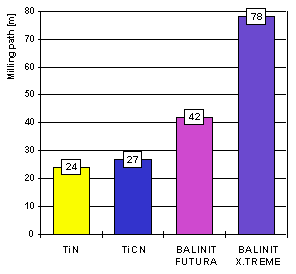 Tool
Solid carbide rougher, diam, 10mm, 25/64, 3 edges
Workpiece
Construction steel
1.2311 /40 CrMnMo 7
P20
Rm = 1050 N/mm2 33 HRc
Cutting parameters
n = 3180 rpm;
vc=100m/min, 328.1 sfm;
ft = 0.035 mm, 0.0014 ipt;
ae =3mm, 0.0117inch;
ap =16mm, 0.624inch;
coolant: 5% emulsion;
Source
Balzers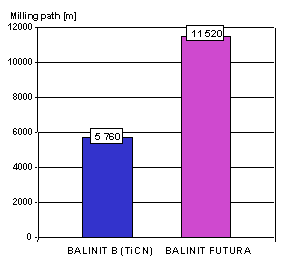 Tool
Solid carbide ball mill,
diam, 12mm (0.472")
4 edges
Workpiece
DIN 1.2311 (40 CrMnMo 7)
AISI P20
Cutting parameters
n=11000rpm;
vc=410m/min (1345 sfm)
f =8m/min (26.2 sfm)
doc=0.2 mm
no coolant
Source
Balzers


Punching and Forming

Princo's coatings are only a few thousandth of a millimetre thick, but harder than steel and chemically inert. That's why they sustainably reduce tool wear, cold welding and friction. Tools with Princo's coatings significantly boost productivity and quality in punching and forming operations.

Princo's coatings can :
Lower costs
Due to less tool wear, reduced lubricant consumption, fewer tool failures and calculable tool changes. You can cut manufacturing costs across the board.
Boost productivity
Due to substantially longer lives, higher cycle frequencies, reduced machine idle time and less workpiece finishing effort. You can punch, form and fine-blank with greater cost-effectiveness.
Enhance quality
Due to smoother surfaces, better dimensional stability, higher degrees of metal deformation and fewer manufacturing steps. You can establish higher standards in manufacturing.
Reduce environmental impact
Due to the use of environmentally friendlier lubricants, reduced lubricant consumption or even dry machining. You conserve resources and spend less on consumables.
Optimise tool production
Due to Princo's cutting tools. You can manufacture your punching and forming tools faster and at lower cost.
Dies and punches

uncoated

TiCN coated

Rework

100'000 parts

250'000 parts

Total tool life

100 %

500 %

Savings for
1 million parts

0

USD 9'000

Clamps
steel strip 2.5 mm, 500 N/mm
Source
Balzers

Tool
Forming punch
Workpiece
steel sleeve
uncoated
no production possible
TiCN - coated
tool life 90'000 parts
tool cost USD 1'382
tool cost per part USD 0.014
Source
Balzers
Molding

Cost management, product quality and compliance with delivery commitments are decisive for a molding company's success.Princo can help you strengthen your market position by our coatings.This is because our coatings stands for lower tool and maintenance costs, less machine downtime, greater manufacturing reliability , better quality of the moldings and less scrap .The use of coated cutting tools also allows quicker and more economic machining of molds. In the manufacture of graphite electrodes, mold components and cavities, offers time gains by high-speed and hard machining and reduces the polishing effort due to lower surface roughness after machining.
| | | |
| --- | --- | --- |
| Plastic injection mould | uncoated | TiN coated |
| Moulds | 2 | 1 |
| Tool / main-tenance cost | USD 33'000 | USD 1'000 |
| Gain in productivity | | 27 days |



Phone handset, ABS
Production of 1'400'000 shells

Source
Balzers
Precision Components

Trends in mechanical engineering are leading to more stringent requirements to machine components:
reduction of friction and increase of efficiency of motors
increase of load bearing capacity and reliability of gears and roller bearings
utilization of environmentally friendly fluids of hydraulic pumps and compressors
general reduction of lubricant usage in machines.
These trends cause higher tribological stresses on components of machines. Higher loads, closer tolerances or the reduction of lubricant cause adhesive wear on surfaces.

Our WC/C coating is the ideal choice to handle these problems. The WC/C coating has three major advantages: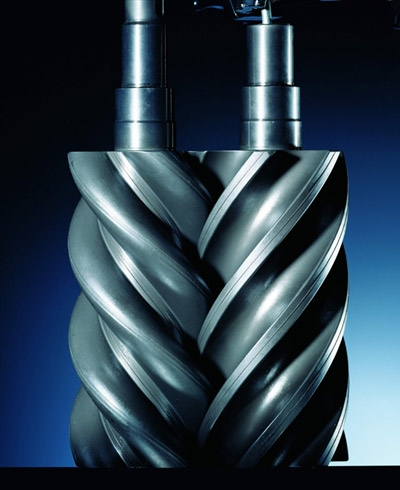 tribological properties
adhesion and toughness
precision capability
The WC/C coating can successfully overcome the problems that occur in poorly lubricated, highly loaded, precision low tolerance components.